Northern Bald Ibises are an endangered species of bird. An Austrian biologist named Johannes Fritz has been able to repopulate a group of Northern Bald Ibises in his country. He hasn't stopped his contribution to protecting this endangered species of bird from that. He has also taken on the responsibility of protecting them from the low temperatures in Austria during the winter season. Fritz became the teacher for this group of birds. They learned a new route to migrate from Austria in the winter season from their teacher, who is not a bird but a human.
Waldrappteam..
Northern Bald Ibises are also known as Waldrapps. Although about 50 years ago they became totally nonexistent in this world, Fritz and his team could safely repopulate a flock of 277 Northern Bald Ibises in Austria. Fritz organized a team called "Waldrappteam". This team includes kind-hearted biologists who have dedicated their whole lives to protecting Northern Bald Ibises from extinction.
In 2004, for the first time, Fritz securely guided a flock of these birds to Italy. However, unexpectedly, three groups of Ibises couldn't make it to Italy because of terrible weather in the Alps. Unexpected climate changes were the reason behind those terrible weather conditions. Fritz and his team, the Waldrappteam, bring those groups of birds to Italy by themselves. But Fritz understood that it was not a sustainable solution. This endangered species of bird should learn to migrate in the winter. It is essential for their survival against extinction. That's why Fritz started to think of a new migration path.
Fritz, with the help of his flying machine, which has three wheels and a parachute-shaped canopy, started the journey with the flock of Northern Bald Ibises. He flew with birds and taught them the new route to migrate from Australia. But this time, their destination wasn't Italy, but the southern Atlantic beaches of Spain. This new route is three times longer than the previous one. Fritz and the birds had to fly 2500 miles for six weeks to reach their destination.
This young group of Northern Bald Ibises also followed their teacher, guild, and caretaker without any hesitation. The birds were friendly and obedient to Fritz and his team because they were there for them from the beginning onward. The kindness and dedication of the Waldrappteam to protect this endangered species of bird from extinction are heartwarming. Although Fritz wasn't a bird, these Northern Bald Ibis considered him their own father.
More Infor & Photo Courtesy: Website | Instagram | Facebook
#1 Images of Northern Bald Ibises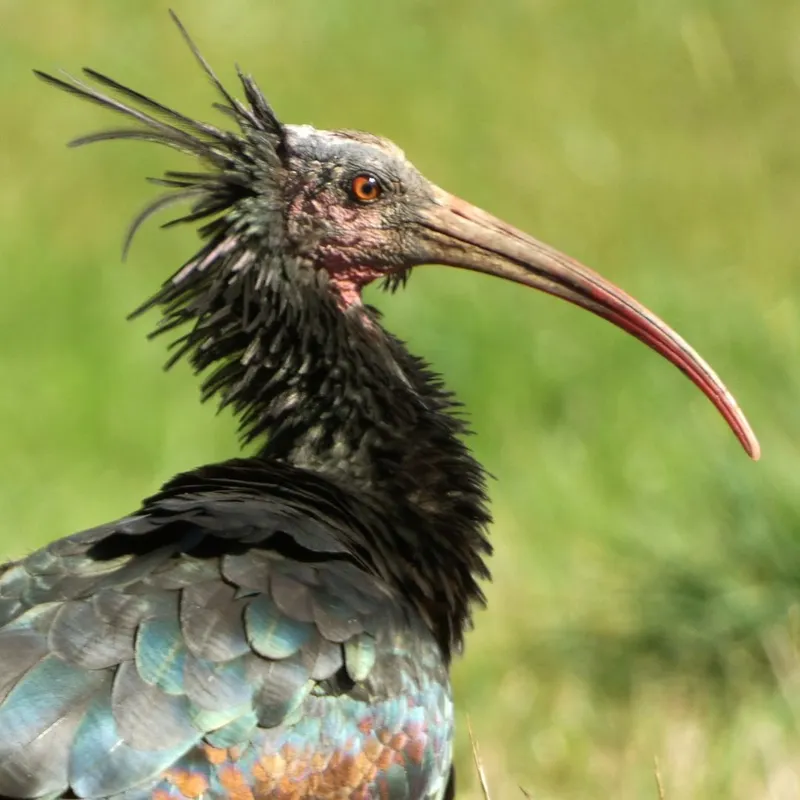 #2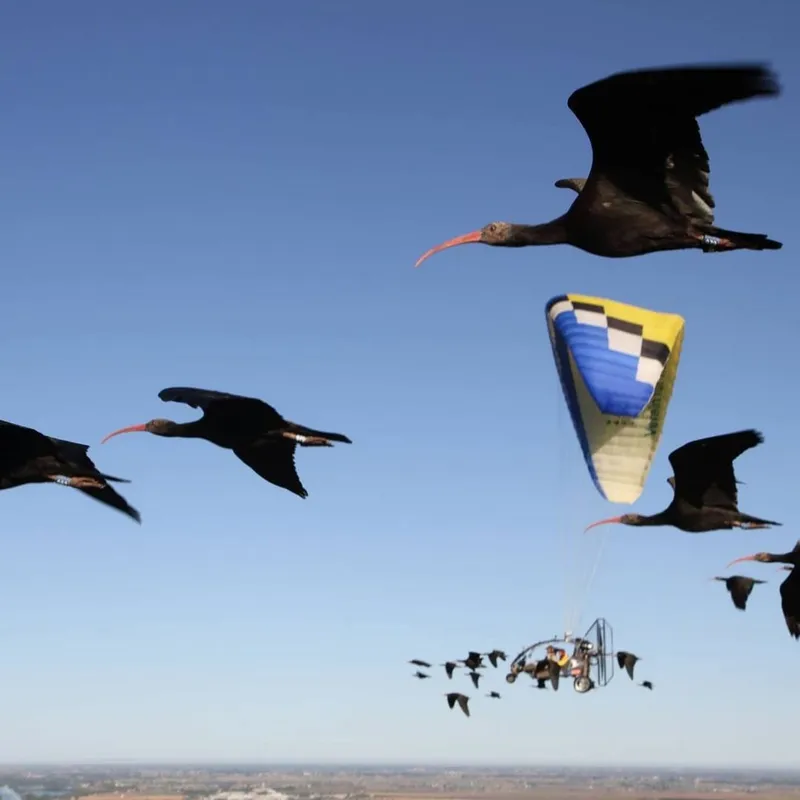 #3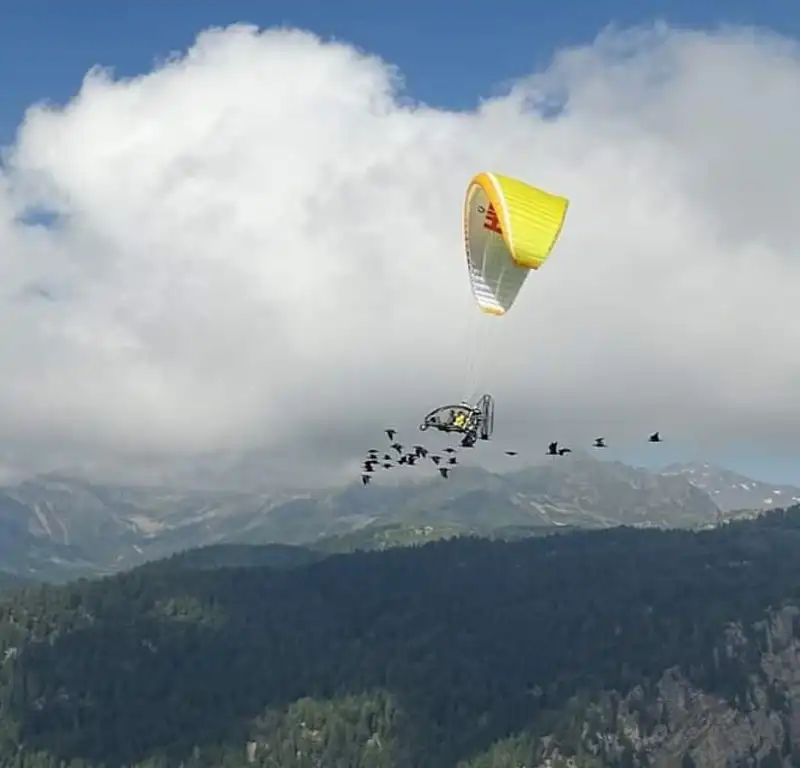 #4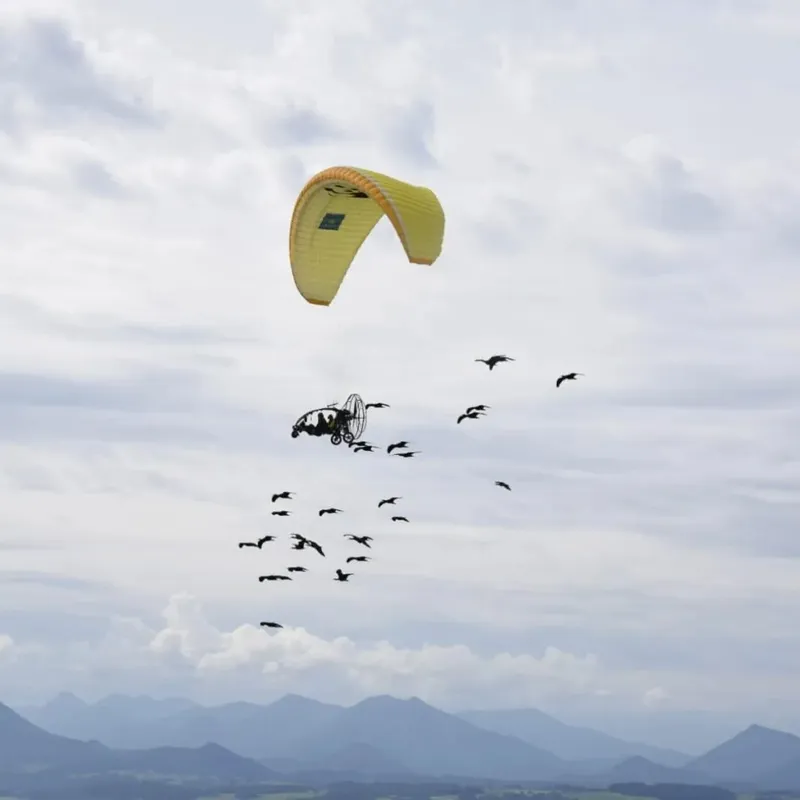 #5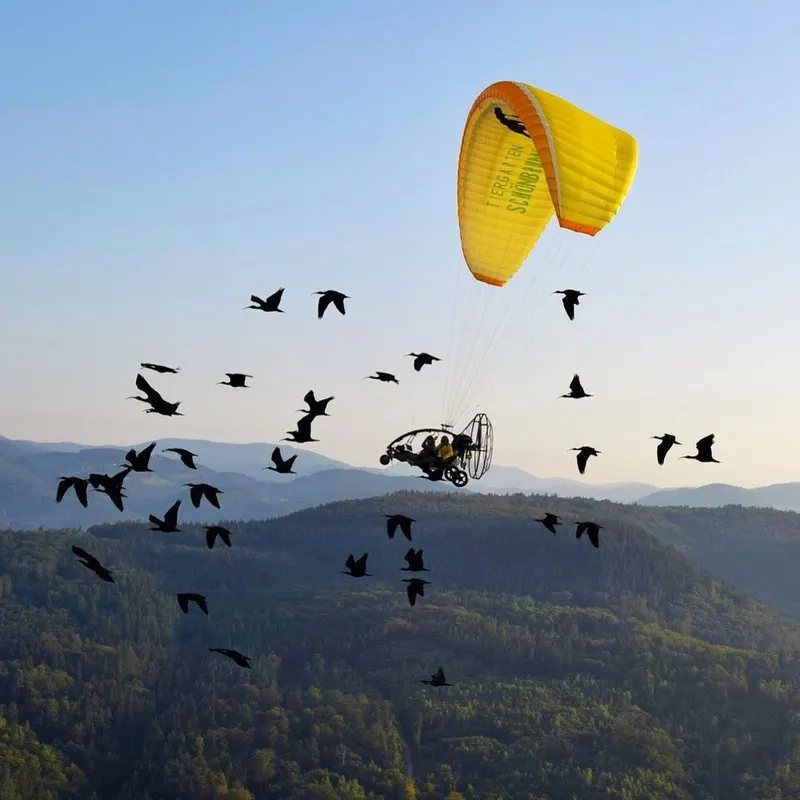 #6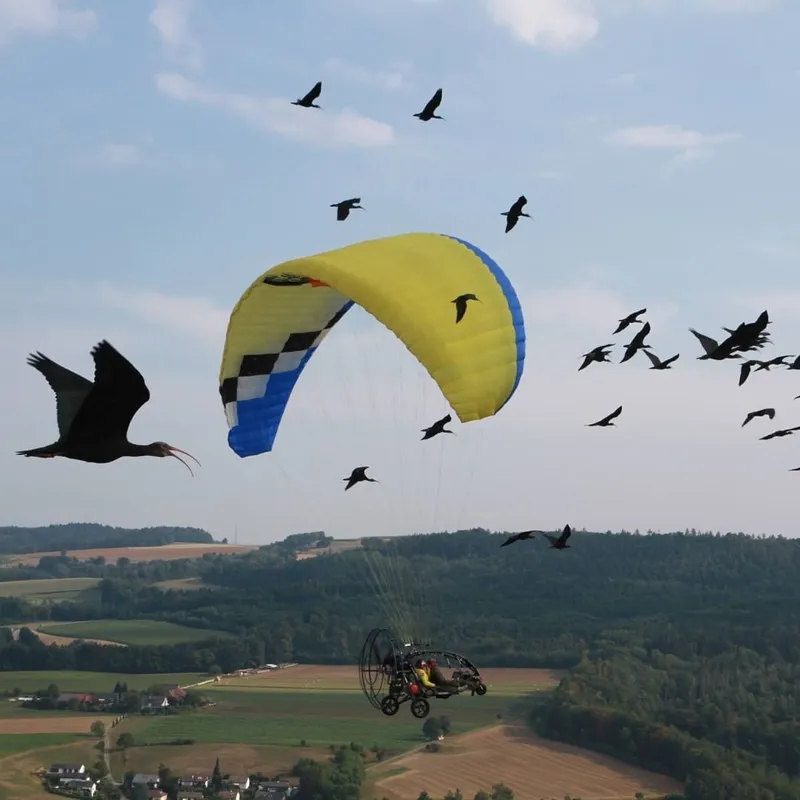 #7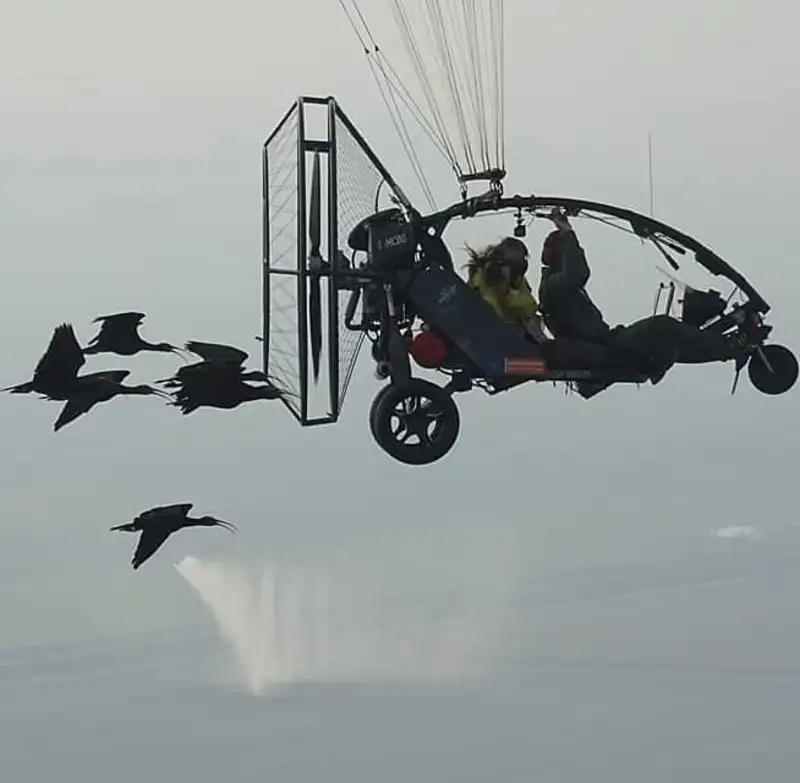 #8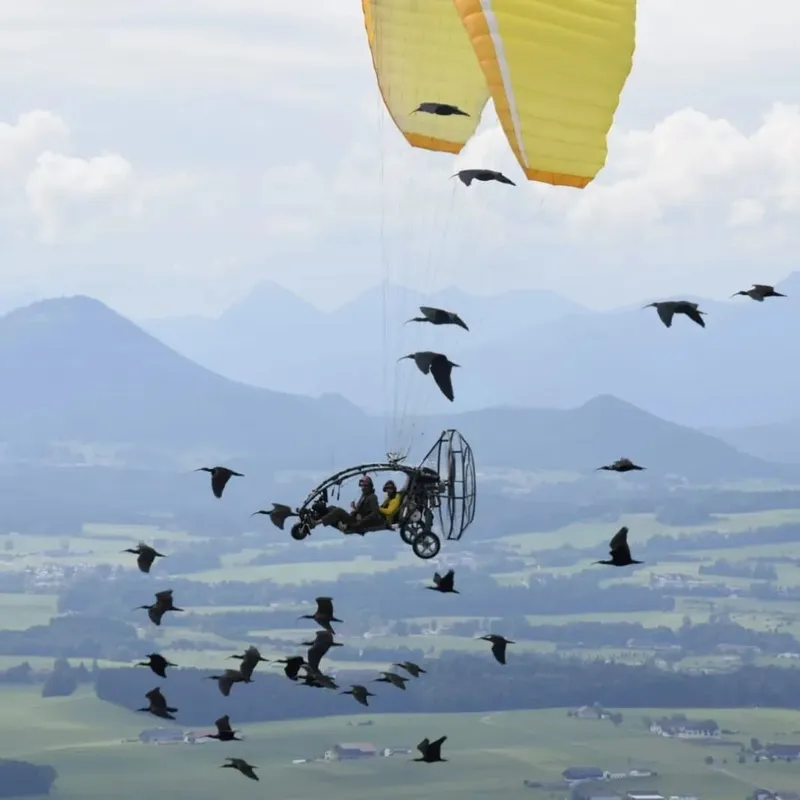 #9
#10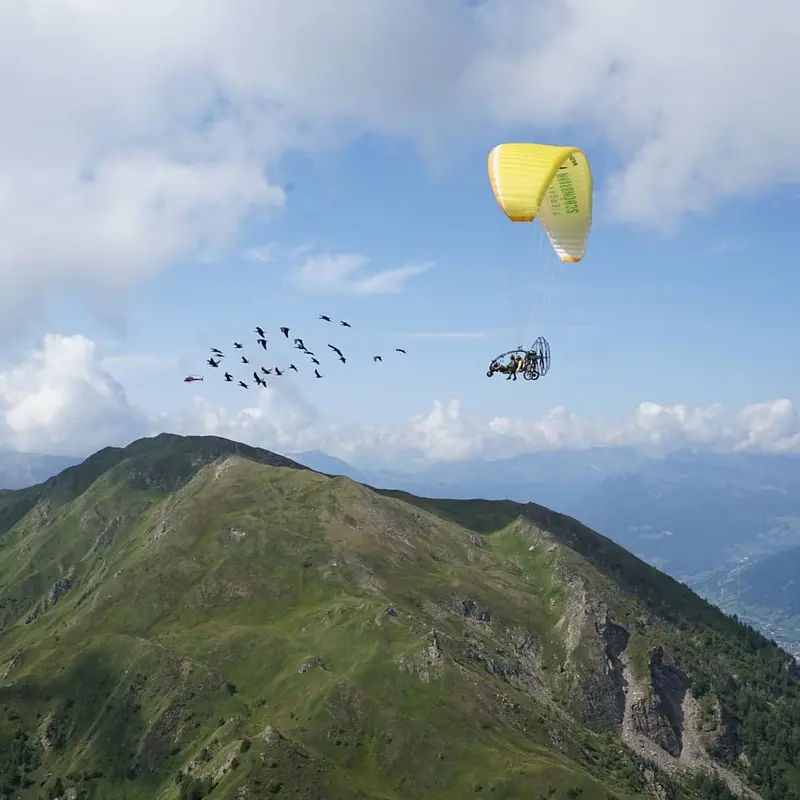 Read more here